Key facts:
Author: Suzanne Hall, Nicholas Jackson
Top Tip: vaso-occlusive sickle pain can be very severe and is often underestimated and under-treated by health staff
Limb pain: osteomyelitis, septic arthritis, trauma/fracture
Abdominal pain: surgical abdomen, cholecystitis/cholangitis/biliary colic
Chest pain: Pneumonia, pulmonary oedema, PE, rarely MI
Marked pyrexia, low BP, drowsiness: consider sepsis
FBC & reticulocytes, CRP
U+E, LFT, Bone, Glucose
CXR (acute chest syndrome), ECG
AXR, Amylase (if abdo pain)
ABG, if SaO2 <90% on air
Cultures as indicated, if pyrexial (e.g. blood, urine, sputum)
'Group & Screen' sample to blood bank
Vigorous IV fluids: 60ml/kg/24 hours
Analgesia (PARACETAMOL 1g qds; DICLOFENAC 50mg tds; and IV MORPHINE 0.1mg/kg, repeated after 10-15mins if needed). Morphine infusion if close monitoring by experienced staff is available
Oxygen: if SaO2 <95%
Treat infection appropriately
Other drugs: thromboprophylaxis, laxative, antipruritic
Transfusion, or exchange transfusion (only after discussion with a haematologist)
Senior Haematology Input
Background
Typical presentation: acute severe bone pain, often generalized but may be quite localised, in a person with a known sickle cell disorder
Sickle cell haemoglobin (HbS) results from a mutation in which the amino-acid glutamine is replaced by valine at position 6 in the β-globin chain of haemoglobin
In conditions of hypoxia or dehydration, HbS tends to polymerize with subsequent deformation of the red cell, and enhanced adhesion to endothelium
The carrier state (HbS trait) affects 1/4 billion people, and protects against malaria, but does not cause sickle crises
Sickle cell disorders arise in people with two abnormal β-globin genes, at least one of which is HbS. The following are the common sickling disorders in decreasing order of severity: HbSS, HbS/β-thalassaemia, HbSC (combination of HbS and HbC). Rarer forms arise when the HbS gene is coupled with HbE, HbD-Punjab, HbO-Arab or HbLepore
Sickled cells have a reduced deformability and are easily destroyed, causing occlusion of the microcirculation and a chronic haemolytic anaemia with a typical Hb level of 7-8g/dl in HbSS.
Pain experienced in a vaso-occlusive crisis results from tissue ischaemia, which most commonly occurs in the bone marrow (hence the bone pain)
Most episodes are managed at home, responding to simple oral analgesia, increased fluid intake, warmth and rest.
Over 90% of hospital admissions for patients with sickle cell disease are for painful crisis
Always consider what may have been the cause, eg infection, cold exposure, dehydration (eg from alcohol, exercise), hypoxia (long flights), or psychological stress
If patients are ill enough to be admitted, opiates are usually necessary
In HbSS, median life expectancy is 42/48 years (male/female). Causes of death include chest syndrome, sepsis, neurological events, pulmonary embolism, drug overdose and renal failure
These symptoms/signs require immediate senior haematology input:
Chest pain or shortness of breath, especially with any signs of consolidation in the lungs and hypoxaemia (possibility of acute chest syndrome). ITU care and exchange transfusion may be required
Abdominal pain (especially with tenderness/rigidity)
Headache, drowsiness (not related to analgesics)
Any acute neurological problem (esp stroke, intracranial haemorrhage)
Marked pyrexia (>38ºC), especially with low blood pressure (consider possibility of pneumococcal septicaemia, as sickle cell patients have no functional spleen)
Low O2 saturation (SaO2) in the blood (especially < 90%)
Sudden splenomegaly with cardiovascular collapse may indicate splenic sequestration (usually seen in young children)
Priapism (persistent painful penile erection)
Sudden severe anaemia with low reticulocytes (consider Parvovirus B19)
Sickle cell 'regulars'
A third of all crises occur in 5% of patients, who have recurrent crises and repeated admissions
There may be an unwarranted tendency to label them as having a low pain threshold, seeking opiates, etc
Do NOT deny analgesia to these pts; they have the highest rate of serious complications and mortality
Do involve their normal managing haematologist as soon as possible
Sickling disorders include homozygous (SS) sickle cell disease, compound heterozygous states for HbS with haemoglobins C, D, E, or other structural variants and the combination of the sickle cell gene with different forms of thalassaemia
The frequency of sickle cell trait is up to 1-in-3 in Black Africans, 1-in-10 in African-Caribbean people, 1-in-50 in the Indian Subcontinent and the Middle East, and 1-in-100 in Northern Greece
It is important to remember that this condition does not just affect African-Caribbean people
About 10,000 people in the United Kingdom have clinical sickling disorders
Painful (vaso-occlusive; obstruction of the microcirculation by sickled red blood cells causing ischaemia):
The most common type of crisis
Severe/excruciating pain is felt in one or more sites, especially long bones (small in children), back, ribs, sternum
May be associated pyrexia (<38.5), tenderness, local warmth and swelling, or there may be no objective clinical features
Haemolysis may be increased (fall in Hb, rise in bilirubin) but does not correlate well with symptoms or severity of crisis
Note: There are no reliable clinical or laboratory markers for severity of the crisis
Aplastic crisis (temporary cessation of erythropoiesis causing severe anaemia)
Usually in children or young adults; precipitated by infection with parvovirus B19
Rapid fall in haemoglobin over a few days
Recovery will occur after 1-2 weeks but transfusion is usually required
The severe anaemia associated with an aplastic crisis, may cause high-output congestive heart failure
Splenic/hepatic sequestration crisis (sudden enlargement of the spleen and/or liver, causing a decrease in haemoglobin concentration, circulatory collapse and hypovolaemic shock):
Splenic sequestration occurs mainly in babies and children <6 years. Hepatic sequestration is more common in adults. The severity is variable but can present with shock and anaemia
If unrecognised, sequestration causes significant mortality (15%) Mortality rates can be reduced substantially by parental education, regular palpation of the abdomen at home to detect early signs of splenic enlargement, and prompt transfusion
Recurrent splenic sequestration is an indication for splenectomy
Acute chest syndrome (vaso-occlusive crisis affecting the lungs) (see below)
Hyper-haemolytic crisis (excessive haemolysis):
Uncommon; marked increase in the rate of haemolysis with a fall in haemoglobin and increased reticulocyte count
May be secondary to infection, drugs, associated G6PD deficiency or occur during a painful crisis, but most commonly it occurs after a blood transfusion even when red cell antibodies have been discounted as a cause
Priapism (prolonged painful erection of penis)
A urological emergency; seek senior haematological and urological help urgently
Progressive pulmonary infiltration on CXR and hypoxaemia combined with chest pain. Often associated with other respiratory symptoms and fever, and typically occurs in the context of generalized painful vaso-occlusive crisis
Note: radiological changes may lag behind clinical features
Most important complication for acute medics; half of all sickle cell patients will experience at least one episode during their lives and it is a leading cause of death
Rapid clinical course. May progress to respiratory failure
More common in patients with lower HbF, severe anaemia, raised steady state WBC
Variable prognosis; 5% mortality overall, 20% if ventilated
Symptoms (initially minor) include pleuritic pain and SOB
Interestingly, signs are often more prominent (esp bronchial breathing at the bases) than CXR abnormalities (bilateral basal shadowing is typical). There may be chest wall tenderness from rib infarctions
Progressive decline in SaO2/PaO2 (especially when measured on air) is typical. SaO2 <90% on air is an indication for immediate discussion with a senior haematologist
Blood and sputum cultures are frequently negative but bacterial pneumonia may be present in up to 40% of cases, especially in children
Broad spectrum antibiotics including a macrolide to cover atypical organisms should be given
If there is any suspicion of ACS, the patient should be discussed urgently with a haematologist. Exchange transfusion may be required
Recurrent episodes of ACS can lead to chronic respiratory insufficiency/hypoxaemia
Cold weather, exercise, alcohol, ischaemia hypoxia (eg long flights), infection, surgery, psychological stress, and pregnancy (often no cause found)
Pain, and where it is
Fever, SOB, cough, chest pain (if considering chest crisis)
Note: fever is common (40% but only 2% have an infection)
"When did the pain start?"
"Is it your normal sickle pain?"
"Are you breathless?"
May be minimal (though there may be local tenderness and warmth)
It is important to examine specifically for complications requiring specific therapy: infection, dehydration, acute chest syndrome (see above), severe anaemia, cholecystitis, splenic enlargement, abdominal crisis, neurological events (infarct, haemorrhage or seizure), priapism
Investigation
Not all required for every patient: individual symptoms and signs should be considered
FBC (Hb is in the range 6-8 g/dL with a high reticulocyte count of 200-400 x109/L when well. Hb may drop by 1-2 g/dL even during uncomplicated crisis), CRP Note: high WBC may be due to sickling alone and so may not be a marker of infection
U+E, LFT, Bone, Glucose
ABG if suspecting acute chest crisis, or if SaO2 (on air) <90%
Note: a proportion of patients will have low oxygen saturations even when well; this is generally well tolerated due to the shift in the oxygen-haemoglobin dissociation curve in the presence of HbS. It is possible that this information may be available in their notes on their hand-held record if they have one.
Blood film and reticulocytes (increased in haemolysis, decreased in aplastic crisis); blood film may show sickled erythrocytes and features of hyposplenism.
Blood cultures if pyrexial
Amylase if abdominal pain
Note: LFTS and abdominal US are not useful for distinguishing a sickle cell crisis and an acute abdomen
CXR (immediately if any chest signs or SaO2 <95% on air)
ECG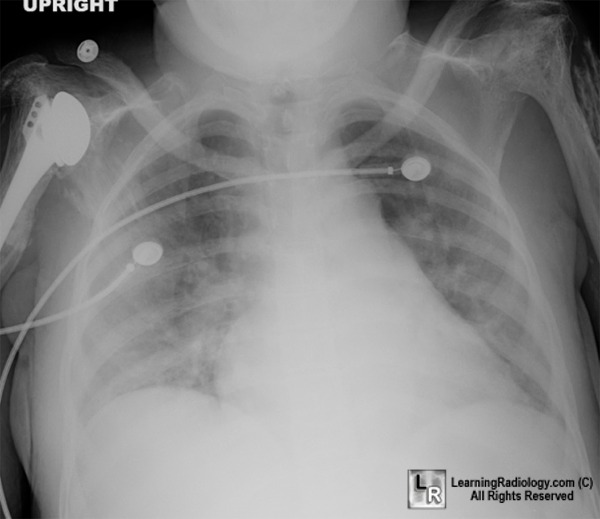 Abdominal ultrasound is not useful in diagnosing an abdominal sickle crisis, but it may have a role if other causes of abdominal pain are suspected (eg gallstone problems, Splenic/hepatic sequestration or other 'acute abdomen')
'Group & Screen' sample for blood bank in case transfusion becomes necessary
Viral serology (for parvovirus B19 if reticulocytes low)
CT (preferably MRI) brain if neurological features or severe headache
Consider limb x-rays if history of trauma or persistent swelling
Limb pain: osteomyelitis, septic arthritis, trauma/fracture
Abdominal pain: surgical abdomen, RUQ pain due to cholecystitis/cholangitis/biliary colic (pigment stones are feature of sickle cell disorders; can be misinterpreted as sickle cell crisis)
Loin pain due to renal papillary necrosis (may cause renal colic and/or frank haematuria)
Chest pain: Pneumonia, pulmonary oedema, pulmonary embolus, rarely MI
Marked pyrexia, low BP, drowsiness: consider septicaemia
Treatment
Analgesia should be started within 30 mins of arrival to hospital, and pain controlled within 60 mins of starting analgesia

Drugs
IV fluids:

if IV access possible; aim for 60 ml/kg/24 hours initially
if IV access impossible, push oral intake. Avoid cannulating lower limbs (risk of thrombosis and ulceration); avoid central lines unless required for life-saving transfusion. No evidence to support one crystalloid over another

Analgesia

Consider renal function prior to prescribing
Should be started within 30 mins of arrival to hospital, and pain controlled within 60 mins of starting analgesia
Consider ENTONOX (50% nitrous oxide, 50% oxygen) for initial use but not for longer than 60mins
PO/IV PARACETAMOL 1g qds
NSAIDs eg, DICLOFENAC 50mg tds PO (unless renal failure or allergy)
IV MORPHINE 0.1mg/kg (titrate to effect, repeat 50-100% dose after 10-15mins) then repeat total every 2-4hrs; consider continuous infusion 1-5mg/hr if close monitoring by experienced staff is available. If IV access not possible, use SC/IM routes, but allow more time to act before giving further doses
Avoid PETHIDINE (risk of cerebral irritation and abscess if given IM)
Consider PCA pump if close monitoring by experienced staff is available
Be guided by individual's usual regime and the level of treatment reached at home prior to admission. Continue usual chronic pain medications
If pain not rapidly controlled, involve specialist pain teams if available (consider other medication such as gabapentin, alternative opioods)

Laxatives and antiemetics: dont forget alongside opioid analgesia, and to prescribe breakthrough 'prn' doses (eg 50% of maintenance dose). Many people experience itching on opioids, so also prescribe an antihistamine
Oxygen; if SaO2 <95% (unproven benefit, except in chest crisis)
Antibiotics; even if no clinical evidence of infection, it is usual to increase their normal pneumococcal prophylaxis from Penicillin V (or Erythromycin) 250mg BD to QID. Otherwise be guided by clinical clues as to a source of infection (e.g. macrolide and a amoxicillin for pneumonia)
Venous thromboembolism (VTE) prophylaxis unless contraindicated
Other
If a patient on iron chelation therapy (eg desferrioxamine) presents with abdominal pain or diarrhoea, stop chelation therapy, send stool and blood for M,C&S and start empirical treatment with ciprofloxacin for possible Yersinia infection
Consider blood transfusion if Hb fallen by >2g/L from patient's baseline, absolute Hb <5g/L, reticulocyte count <100x109/L or symptomatic anaemia (if transfusion required, consider underlying diagnosis of hepatic or splenic sequestration or parvovirus infection). Always discuss with a senior haematologist before undertaking any transfusion
If the patient is taking it, withhold hydroxyurea if neutrophils <1x109/L, platelets <100x109/L or reticulocytes <100x109/L (liaise with haematology)
Pain, respiratory rate, SaO2 (on air and on O2 if being given) and level of sedation should ideally be monitored every 20 mins (2 hours once pain controlled) and a pain chart started
Fluid balance monitoring
If in an area of high prevalence, your hospital may have a sickle cell unit. These patients should have a very high priority for admission to a ward where they are known, and nursing staff are experienced in dealing with them
Even if they cannot be admitted there immediately, review by a haematology doctor and a specialist nurse should be requested as soon as possible
Incentive spirometry (10 maximal inspirations every 2h, 8am-10pm, and at night if awake until pain settles); used for pain crises with back or chest pain and in chest infections and hypoxia
CPAP and ventilation may be necessary. Involve haematologist and intensivists
Transfusion (either top-up or exchange); consider in acute chest syndrome; sequestration crisis; or neurological involvement (stroke, TIA, fits). This decision must be discussed with a senior haematologist
Haematology (specialist sickle cell ward, if your hospital has one)
Haematology: always, at some point. See Background for indications to do this immediately
ITU: if markedly hypoxaemic, drowsy or in septic shock. Occasionally patients will require such high dose analgesia that they will need ventilatory support
Urology: if priapism
Surgical? Do not miss a non-sickle cell problem, thinking that all symptoms in a sickler are due to his sickle cell disorder! However, surgery should not be undertaken without careful discussion between senior surgeon and haematologist. In some situations, transfusions may need to be given pre-operatively
The Rest
Acute chest syndrome has 5-10% mortality
"If they complain of pain, they are in pain"
Of acute chest syndrome; respiratory failure
Acute chest syndrome has 5-10% mortality
Clinical severity and prognosis are very variable, ranging from survival into the 60s and 70s to a severe disease with substantial organ damage and early death
HbSS median age death 42y male, 48y female
1/3rd die in a sickle crisis; risk of dying increased if: low-level HbF, chest crisis, ARF, seizures, baseline (not in crisis) WBC >15
The most common causes of death are pulmonary complications, stroke, infection, acute splenic sequestration, and chronic organ damage and failure
Avoid exposure to cold, fever, dehydration and stress
Hydroxycarbamide decreases episodes of acute chest syndrome and painful crises, and may improve splenic function in children and delay end organ damage. Stimulates production of HbF and increases MCV. Can cause cytopenias
If they complain of pain, believe them
Contact specialist team ASAP
Acute chest syndrome is very serious
Pulse oximetry is not completely reliable (refer to their previous baseline SaO2)
Avoid surgery if possible, especially if severe disease
References